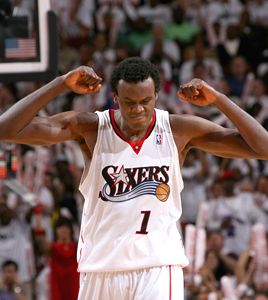 The Sixers beat the New York Knicks tonight 116-110 at the Wachovia Center. The Sixers improved to 21-21, getting back up to .500 after dropping below it with their loss against the Mavericks.
The two Andres led the way for the Sixers. Iguodala scored 24 points, grabbed seven boards, and dished out six assists. Miller 21 points, grabbed five rebounds, and dished out five assists and also hit 7 of 7 from the free throw line including some clutch ones at the end to ice the game.
Thaddeus Young added 17 points and Lou Williams added 10 from off the bench. Willie Green (Caution: May Contain Basketball Like Substance) scored 14 points. In total, the Sixers had six players in double figures.
The picture is of Samuel Dalembert for a reason. The Haitian Sensation scored 10 points and grabbed 17 rebounds. Yes, you read that correctly, 17 rebounds. He played so well that Tony DiLeo had to keep him on the court, as Dalembert got 34 minutes while rookie Marreese Speights had just 12.
Elton Brand's return from injury was nothing to cheer about. He played very limited minutes (just 12 in all) and ended with just six points and three rebounds.
The Sixers' three point shooting was average tonight. As a team, they went 6 for 15 for 40%. It is better than they have been in the past, but not how they have been shooting over their win streak. Iguodala shot just 1 of 5 from three point land.
For the Knicks, Nate Robinson led the way with 26 points and six assists. Tim Thomas added 24 points and David Lee scored 20 points and grabbed 10 rebounds. Chris Duhon scored 18 points and dished out five assists.
Next up for the Sixers: New Orleans Hornets, Monday